Integrated 9-1-1 Radio Dispatch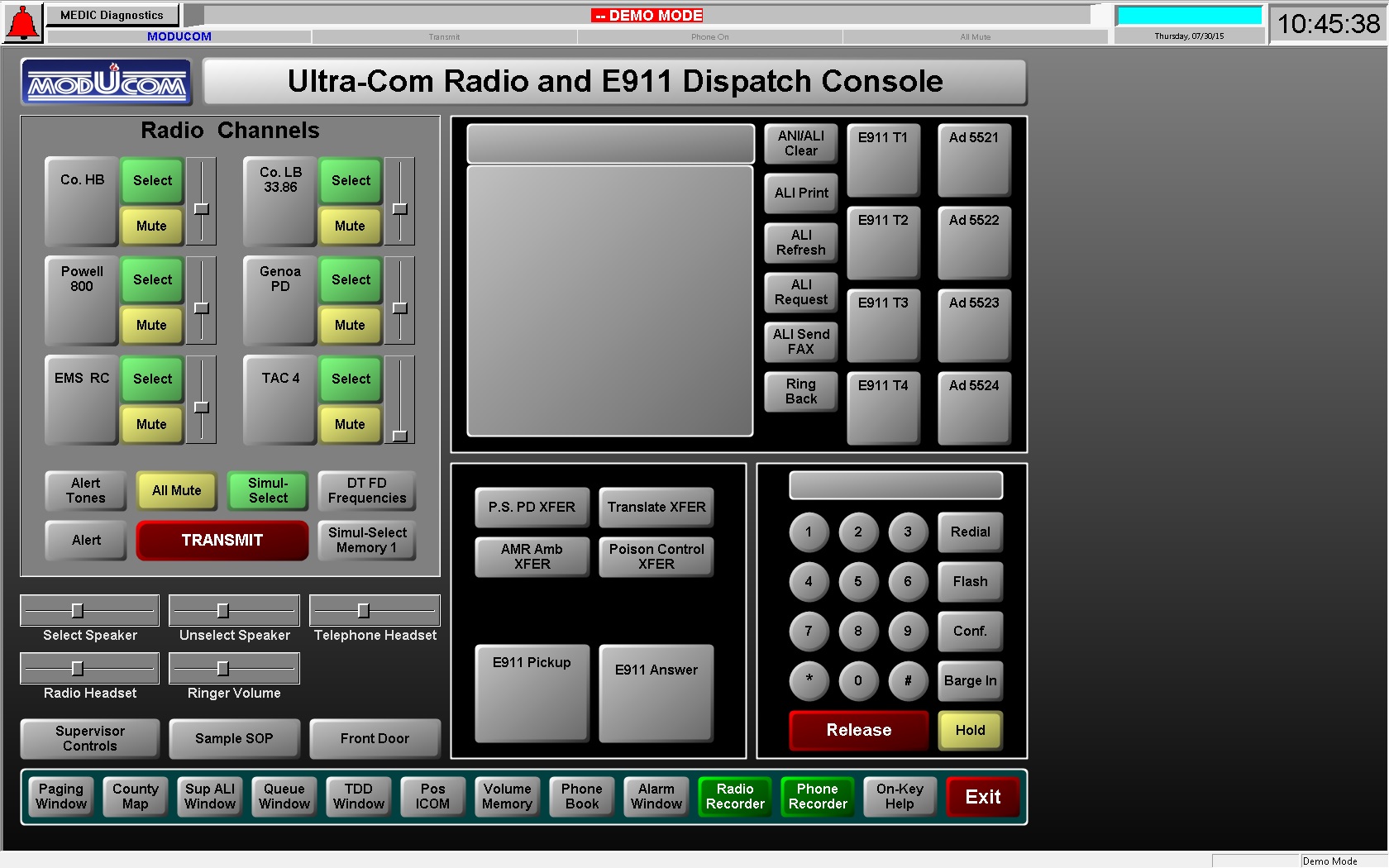 Fully integrated and cost-effective
The Ultra-Com IP Communication Control System is NENA i3 and Phase II compliant providing radio dispatch, telephone,
E9-1-1/NG9-1-1, mapping and Interoperability/VoIP, all in a single software application. This makes for reduced complexity, improved reliability, easier upgrades and significant ROI. The Ultra-Com IP Communication Control System is the most cost effective system available. Unlike our competitors, the Ultra-Com IP is a fully integrated system. Every feature is built-in – all at no extra cost.
User Programmable
Our built-in visual tools are the most flexible way for users to program screens. Screens can be easily designed to fit the job exactly. All screen interface layout, button size, location colors, labels and functionality are user programmable. System changes can also be made by your technicians instead of expensive factory programmers using the integral Customizer tool.
More Info
Ultra-Com IP users save over 50% on maintenance costs with our built-in diagnostics. Both local and remote, automatic and manual these diagnostics perform extensive test routines. They identify where failures occur, often switching automatically to back-up resources. Error messages provide clear explanations and offer corrective action. The diagnostics can even be used remotely by technicians at our factory to help trouble shoot your system.
More Info
Upgrades include all new features and capabilities – this means a huge cost savings.
Built-in Dual Instant Recall Recorders
More Info
Dual instant recall recorders (radio and phone) are integrated into the system at no extra charge. This allows the operator to record and play back, independently, up to 90 minutes of radio and telephone messages. Save up to $5000 worth of hardware per operator position.
Optional Integrated Telephone and 9-1-1 Logging Recorder/MIS Server
More Info
All telephone call audio is stored on the E911 Server. Calls can be retrieved using the integrated Search, Filter and Report Utilities from any access point on the system network. Call and audio data are backed up on DVD-RAM media eliminating costly separate logging recorders.
9-1-1 call processing
Easily manage the complex array of information and communications present in today's modern dispatch environment. 
Support
From planning and installation to training and support, ModUcom provides the most comprehensive support in the industry.
Office
955 E. Commerce Dr.
Suite A
Traverse City, MI 49685